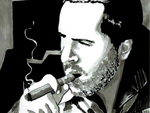 I began creating cigar ornaments & keychains in 2022.  They've sold at various cigar retailers & wine shops.  Be sure to keep an eye for them!

This is the start of FOURTEEN years of cigar exclusive artwork!
When you buy…You're not alone! (a running total of prints & originals sold): 579 thus far
Remember there is a "contact" form (above) for easy access to commission/purchase/trade thoughts
Checkout is still crazy easy
I specialize in Acrylic, Pen & Ink, watercolor, & charcoal cigar art for those that appreciate the finer aspects of the tobacco leaf. My artwork hangs in corporate cigar offices, personal cigar rooms, and cigar shops & shops around the country. As you browse through my work, I hope you enjoy the detail, unique vision, and style. No one else in the Country is doing this quality of Cigar Art. You can purchase either an original, or a print (some limited) to have as your own. You can also arrange for commissioned one of a kind art by contacting me directly. Enjoy the galleries!