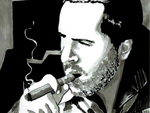 Another year of Cigar Art has begun.

The start of year TEN of cigar exclusive artwork!
When you buy…You're not alone! (a running total of prints & originals sold): 566 thus far
The site is currently being updated:
Click on "shop" (above) to browse through my work
Use the tags (right side of most pages) to search for similar pieces/styles
Use Tag "Journey art gallery" to see the items that are being shown at the gallery
Sort by size and/or price
Remember there is a "contact" form (above) for easy access to commission/purchase/trade thoughts
Also, after searching, there are "next page" arrows if all of the pieces don't fit on one page
Checkout is still crazy easy
I specialize in Acrylic, Pen & Ink, and most recently, charcoal cigar art for those that appreciate the finer aspects of the tobacco leaf. My artwork hangs in corporate cigar offices, personal cigar rooms, and cigar shops & shops around the country. As you browse through my work, I hope you enjoy the detail, unique vision, and style. No one else in the Country is doing this quality of Cigar Art. You can purchase either an original, a print (some limited) to have as your own. You can also arrange for commissioned one of a kind art by contacting me directly. Enjoy the galleries!